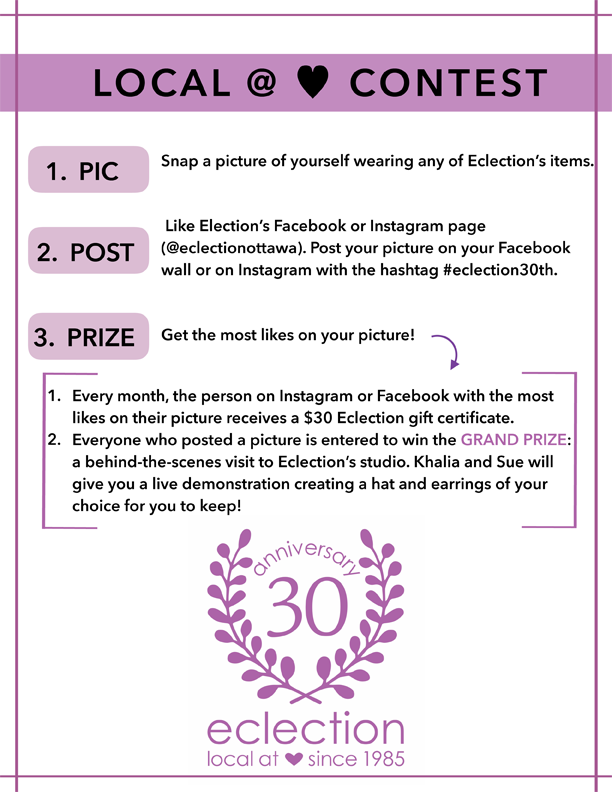 This is the place in Ottawa for handmade fashions and accessories. Eclection features the work of over 50 mainly local artisans and designers. The store is full to bursting with collections and unique pieces from Ottawa, Montreal, Toronto, and Quebec, as well as many other Canadian locales and few far flung places too. From funky to elegant, upcylcled to upscale Eclection's carefully curated collection changes weekly and seasonally. Come experience the wide array of jewellery, hats, scarves, clothing and more located in the Byward Market Building seven-days-a-week year round.
55 Byward Market Sq.
Ottawa, Ontario
info@eclection.ca
(613) 789.7288
At the thirty year mark in 2015, Eclection is Ottawa's longest running fashion accessory store. It's a boutique that has evolved from an outdoor Byward market stand to a charming store in the historic Byward Market Building without losing its craft roots.
Over the years, Eclection has served as an incubator for developing designers and craftpersons many of whom have been with the business since its inception. "It has been my pleasure to see designers grow and expand their craft through exposure and feedback from customers, staff and other artists." says proprietor Sue Scott.
Sue is also the main hat designer of Eclection and can still be found behind the counter when not in her studio. As can founding partner Khalia Scott, the designer and creator of Cirque, a jewellery collection exclusive to Ecelction. Everyone on staff at Eclection work in craft or design and are uniquely qualified to guide you through the gay profusion that fills the boutique.
The array of varied and carefully chosen pieces at Eclection stay true to its name with with cutting edge and the classic side by side in a constantly changing mix.
"Eclection is like your best friend with the biggest best closet ever, every trip is like a session of dress up for grownups."
– Shellie Matthews