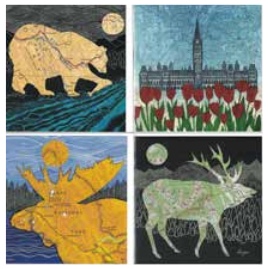 Designer of a line of cards, Alan has been painting, drawing, experimenting and printmaking for over 30 years. His love of nature, hiking and exploring was nurtured by the Toronto Scout troop he enrolled in after immigrating to Canada with his family in 1966.
The new series, "In Wilderness" inspired by canoeing, camping and the use of topographic maps, evokes memories and feelings of a connection to the landscape and its inhabitants. His paintings are composed of multiple layers of paint applied to topographic maps fixed to birch panels and incorporate printmaking techniques such as "sgraffito". 
Alan lives in St Mary's, Ontario and works from his Studio 234.